Dehradun: The National Remote Sensing Centre (NRSC) of the Indian Space Research Organisation (ISRO) has released satellite images of Joshimath and a preliminary report on land subsidence which shows that the entire town may sink. The pictures are taken from the Cartosat-2S satellite.
Hyderabad-based NRSC has released the satellite images of areas that are sinking. In images, the entire town, including the Army`s helipad and the Narasimha temple, has been marked as sensitive zone.
On the basis of ISRO`s preliminary report, Uttarakhand government is conducting rescue operation in danger-prone areas and the people in these areas are being shifted to safer places on priority.


(Image credit: ISRO)

According to the report, the land subsidence was slow between April and November 2022, during which Joshimath had sunk by 8.9 cm. But between December 27, 2022 and January 8, 2023, the intensity of land subsidence increased and the town sank by 5.4 cm in these 12 days.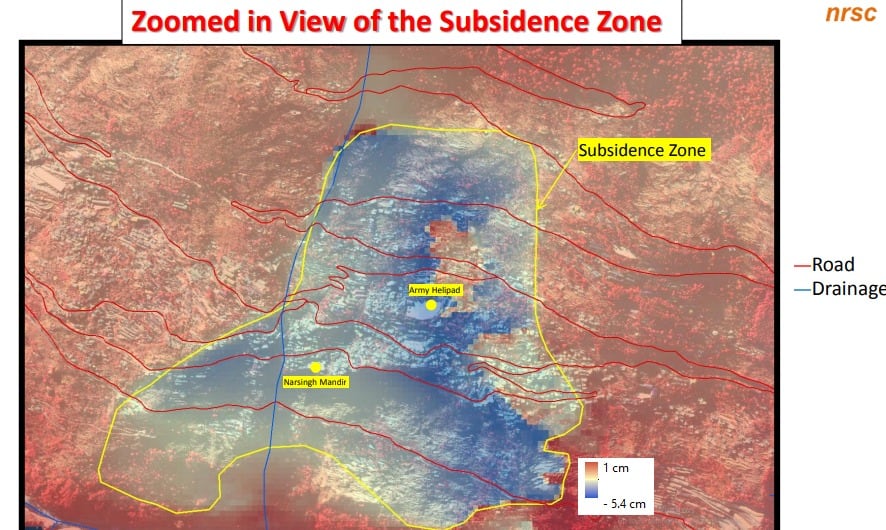 (Image credit: ISRO)

The satellite images show that the Joshimath-Auli road is also going to collapse due to the land subsidence.
Although scientists are still studying the cracks that appeared in the houses and roads after the land subsidence in the town, the findings in the primary report of ISRO are frightening.